So she thinks this is the perfect "solution" for a barking dog, duct tape!
In case this week's social media swarm passed you by, a woman named Katharine Lemansky was charged in Cary, North Carolina, this week after what she imagined to be a pioneering effort in "shutting up" her dog.
Sadly,  there's a dismal history of duct-tape that goes back so much further than the Lemansky incident. Unthinking owners have been going medieval on their dogs since they first learned that they occasionally make sounds with their mouths.
Last June, William Dodson who also is from North Carolina, put duck tape on his dog, causing him to be in critical condition.  They Got Him! He faces serious charges!
It's not just tape, of course. June, the notorious "porch pooch," was similarly silenced using a phone cord and string.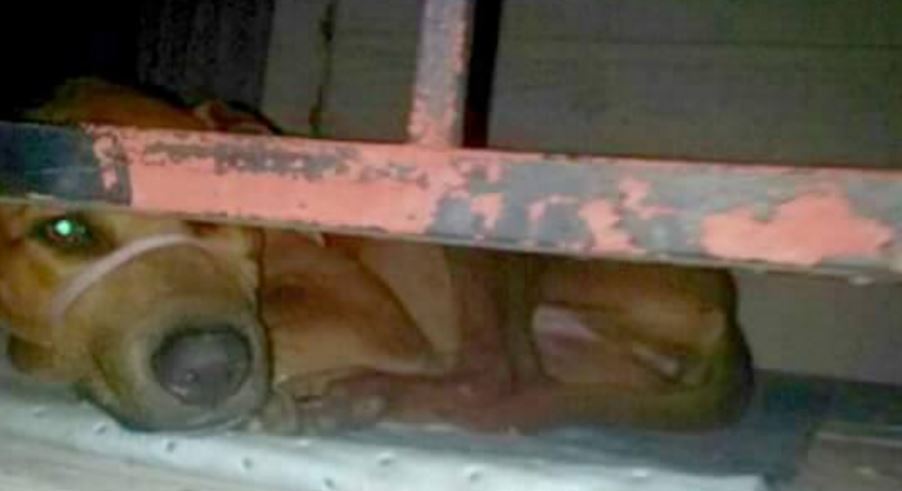 Today, it's Kimberly Ann Howell's turn in court, also of North Carolina. She is charged in October with animal cruelty after this image of her dog Leah surfaced on social media.
Kimberly Howell is now out of jail on a $3000 bond. She was devastated to see all the mean and rude comments about her, saying that she is an animal abuser. Everything has spun out of control and it's all because of a bad judgment on her part.She will be in court in November to face animal cruelty charges.Scroll down article to view video.(Megan)
http://iheartdogs.com/woman-who-duct-taped-her-dogs-mouth-…/
Last week, we posted a news article about a woman who is facing charges of animal cruelty because of her Facebook post asking for someone to shoot her dog. And yesterday, we…
IHEARTDOGS.COM
Just another picture of how she treated her pets!
While in Howell's case, it was the biting (the play biting) that prompted Leah's terrible taping, the the woman's story plays out much like Lemansky's sordid tale. The parallels are downright eerie.  "I warned her. I told her I was going to teach her not to bite the baby again even play biting," the woman noted with her pictures.  Much like Lemansky, Howell didn't initially see what all the fuss was about. Even when police showed up at her doorstep.
Upon visiting the home, Detective R.C. Barkley (yes, that's his real name) stated that Howell's boyfriend appeared dumbfounded, telling police it wasn't "a big deal" and Leah wasn't "physically hurt."  She states,"I could take a lie detector test and prove I meant her no harm and it was a joke," Howell would later note in court documents.  And just like Lemansky,   Howell claims the muzzle taping was only in effect for a moment or so.
Finally, again, just like Lemansky, Howell seemed unable to get over the idea that people were mad at her. Neither owner responded well to the sudden outcry over their actions.
"The dog will panic, start breathing harder, desperately scratch at it's face to remove the tape, and ultimately suffocate to death, or will be brain injured and have to be euthanized. If the dog survives, the tape won't have taught the dog anything, and so the barking problem will continue. Taping doesn't ever work, it is cruel, and it is illegal."
PLEASE CLICK AND SHARE THESE STORY TO MAKE SURE THESE STORY'S GET ALL THE PUBLICITY THEY CAN AND GET THE HARSHEST PENALTY!!!!