"We are happy to report that the bull who was on the run earlier today in Queens is safe and on his way to Farm Sanctuary in Watkins Glen, NY. Jon and Tracey Stewart picked up the individual whom we are calling Frank this afternoon from Animal Care Centers of NYC (ACC).
Frank had escaped the truck carrying him to a live market in Queens and, in just a matter of hours, he was meeting with the founders of Farm Sanctuary's newest locale, Jon and Tracey Stewart.
The video shows Stewart shaking the hay to appeal to Frank's appetite.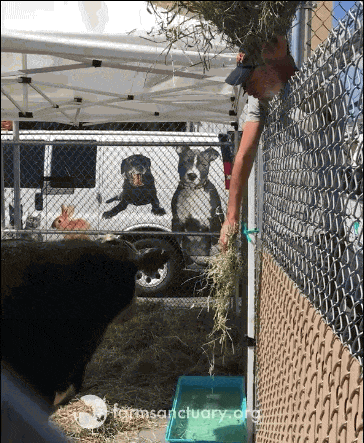 "You want some more?" Stewart spoke in a comforting tone. "That's it, buddy."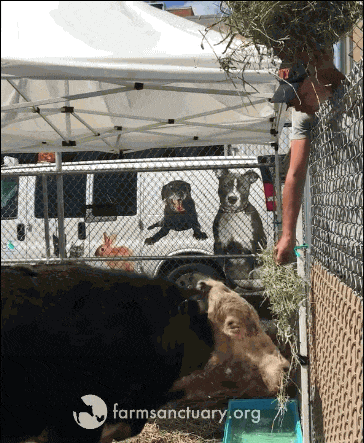 Stewart's wife, Tracey, author of "Do Unto Animals: A Friendly Guide To How Animals Live And How We Can Make Their Lives Better," noted that his appetite was a good sign. She told him, "He's not too stressed to eat. That's good."
"Everybody likes hay … everybody," he responded. Then turning back to Frank, he said "You want more, frand?"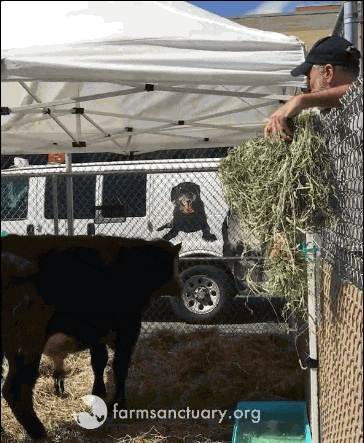 .
If the video's any indication, Frank will have plenty more hay and affection at his new home with the Stewarts.
Although it's election season, Stewart won't be behind a desk providing his insight on today's political happenings. Instead, he will be with his wife, working together to make the world a better place for animals to live.
Please click and share with your loved ones and fellow animal lovers!