At least 281 black bears have already been killed in the first two days of New Jersey's expanded bear hunt and they died after being shot with arrows.
Taking place from October 10 to October 15, the newly added bear hunting season there's also an annual hunt in December is the first time in decades the "bear harvest" has allowed archery. During the first three days, the hunt is archery-only, the New Jersey Department of Environmental Protection (DEP)announced. Hunters are allowed to shoot the bears with rifles in the final three days.
Animal lovers are calling the hunt "disturbing."
"Allowing bears to be hunted with bows and arrows has even greater potential than firearms to inflict painful, gruesome injuries and slow, agonizing deaths," Jennifer Place, a program associate for Born Free USA, told The Dodo. "At the start of this black bear hunting season, more than 200 bears were killed in just one day using this brutal method, and that's not accounting for any wounded bears that weren't ultimately found by the hunter. Severely wounded bears could suffer for days or even weeks before dying."
Still, the DEP promises in a press release that the "added fall season will help achieve the goal of healthy and sustainable bear population and reduce the possibly to encounter other people."
But black bears almost never attack people  you're far more likely to get struck by lightning. "Most negative black bear encounters are caused by surprising the bears or giving them a reason to think you are a threat," Born Free USA said.
But the DEP believes there's just one way to handle black bears. David Chanda,New Jersey Division of Fish and Wildlife director, added that the "introduction of a fall hunt, when black bears are more active, in addition to the zone expansions, will help us achieve our goal of a healthy and sustainable bear population and will increase opportunities for hunters to take bears in areas where bear and human encounters have been reported due to bears expanding their territories."
The hunt's regulations apparently offer no rules or protections at all for mother bears and cubs which is  very  concerning.
"It is simply unconscionable that hunters are allowed to kill both cubs and female bears with cubs," Place said. "Killing a mother bear only condemns her cubs to predation or starvation, unless they are killed by hunters too."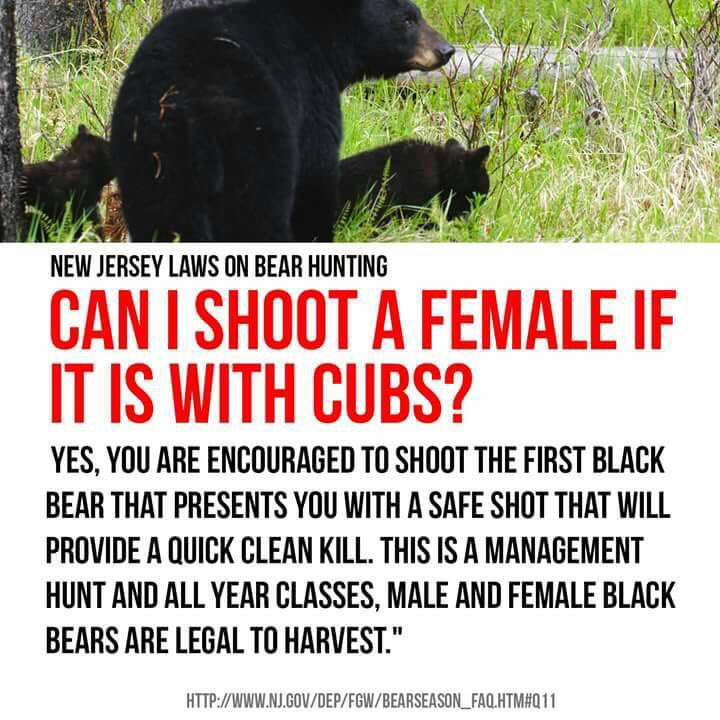 Click here to add your name to a petition urging New Jersey to put a stop to the hunt. Or learn how you can contact the New Jersey DEP directly here.
Click and share with your loved ones and fellow animal lovers!